Design freedom
Flexibility, customisation, practicality.
We have created a system that can be adapted to any planning and functional requirements while maintaining our high quality standards and ensuring harmony in the shapes and spaces of the finished kitchen.
Base Units
Flexibility, practicality, convenience.
The base units of Sistema 22 are designed in modules so that each individual kitchen can have a different composition according to its height, width and depth requirements, whether the units are floor-standing or raised, against a wall or island format, and ensuring that the kitchen is ready for the customer's daily use.
Specifications of bases with handle
Specifications of bases with groove
Specifications of hanging bases
Depth of bases
Wall units
Spaces for storage.
Thanks to our Sistema 22, wall units can be customised for height, width and depth, just like our base units, making them designer items which are also functional elements to complete your kitchen.
See PDF
Specifications of wall units
Tall units
Practicality, functionality and aesthetics are the foundations for building a kitchen. To maximise the use of space, Alta offers numerous solutions, including tall units with doors that fold away to reveal multi-purpose storage containers.

Minimal thickness and large sizes give rise to a new minimalism in the relationship between vertical lines and spacious horizontal surfaces.
See PDF
Specifications of tall units (with handle or groove)
Doors and front panels
S22
The thickness of our doors is 22 mm, and this is a distinguishing feature of our kitchens.
We offer various options for the customisation of doors and front panels, with a particular focus on ergonomics and design.
See PDF
Brera
Diagonal
Tratto
Metal
Punto
Linea
Spazio
Telaia
Telaia is a frame that enhances the doors of your kitchen units, making them even more unique and distinctive.
Push
Punto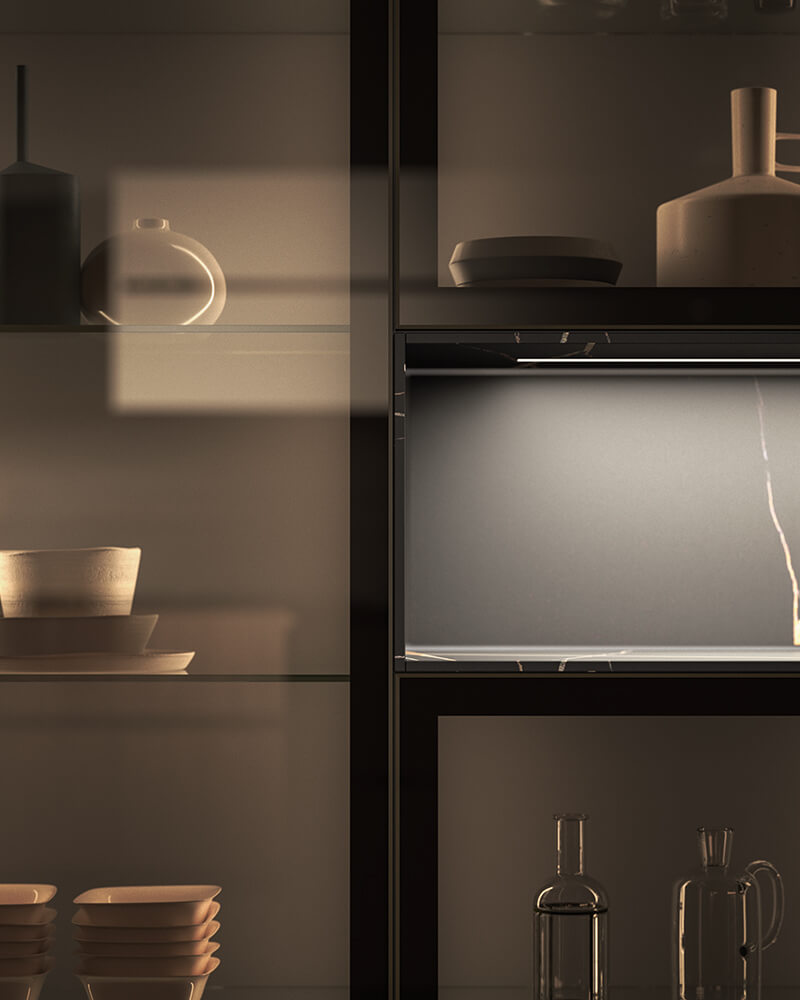 Alluminia
Alluminia is an invisible solution that adds elegance and refinement to the transparent elements of your kitchen.
Spazio
Push
Punto
Alubox
The new Alubox door series, with boxed aluminum structure and glass or Laminam, represents the cutting edge also in terms of eco-sustainability and recyclability of materials
Linea
Spazio
Worktops
The wide range of SISTEMA 22 worktops ranges from a wide selection of high quality laminates to the prestigious Inalco 12 mm MDI stoneware.
The different materials are available in different thicknesses up to 40 mm Lamicolor.
See PDF
Pull-out snack counters
The insertion of the new sliding elements allows the kitchen to open up, extend and adapt, creating modular spaces that can also be used for uses other than the usual ones. The Sistema 22 kitchen space is enriched with attrac- tive over-top solutions. And without compromise.
See PDF